Please excuse my lack of posts. I was so busy during the school year and have finally gotten the chance to relax and catch up with old friends...before I knew it, over a week had passed without blogging. Beyond that, I have yet to unpack everything after moving out of my apartment and many of my clothes and accessories are still neatly shoved into rubbermaids and hefty bags. Still, I am back and will make an effort to be more present.

This past weekend I attended an annual garage sale at a local church. It has been one of my favorite events of the summer for years. It is huge, cheap and run by kind senile ladies who have no idea what they are giving away. My best find at the sale is something I can't actually wear in the summer, but it will serve me quite well in the Ukrainian winter. A vintage genuine fur pillbox hat for only $5:




...the kicker?




I also recently found the perfect take-it-anywhere black handbag at an antique store. I adore frame bags right now, and this one is pleasantly roomy. I like black handbags because I am not much of a switcher...I am too disorganized and carry too many random things. The last time I switched purses for an evening out I left my keys in purse #1 and found myself in the uncomfortable situation of being locked out at 3am.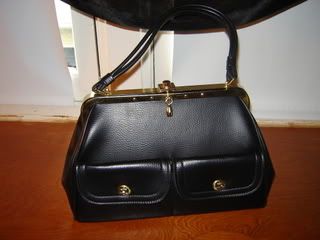 ...on a final note, I found a moldy old outfit shot I took a few weeks ago to deliver a speech for a history conference. I forgot to post it and stumbled upon it yesterday when I was deleting old photos from my camera.




Shades: Target
Vintage 60s suit: thrifted
Giraffe brooch: flea market
Grey knee socks: Target
Spectator pumps: Bakers