These days I am attracted to the color combination of taupe/beige/cream/nude and black. It has an antiquated, art deco feel to it.

On the ladies:




I love the simplicity of the black. The cream scarf really pops. Also: why do I not leave the house every day looking like a freaking fairy tale?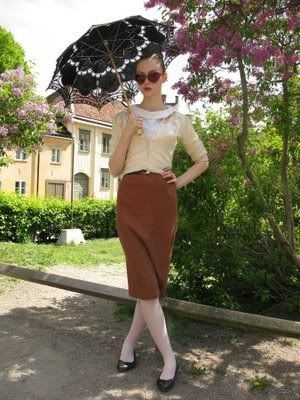 Poets have literally died trying to describe that umbrella.





Someone needs to compose an opera praising this neckline. I need to scour my apartment to find my opera writing hat.

(photos courtesy of copenhagen street style, the facehunter and liebemarlene vintage.)

Up for grabs:




Think of how much better this Target top would look on a person with an entire head.




These Forever21 lovelies would look too cute with something ruffle-y, flowy, or otherwise cutesy. F21 tends to make cute shoes, but they only go up to a size 9...we freak shows are shut out in the proverbial cold.




Oy. I can lust after things from Topshop all I want, but the exchange rate simply does not permit me to indulge. If I were to travel to England, I could use a roll of American $100 bills to prop up the leg of a wobbly chair and it would still be more economical than actually spending them.

...on another note, thank you for all of the kind words in response to my last post. I am not sure about blogging while I am gone, and won't be able to say for sure once I am actually there and can assess accommodations at my site. In either case, I am here until the end of September and will continue to blog!