The internet has made me marvel at the technical skills of others. There are so many creative beings out there in cyberland - their diy know-how translates into so many beautiful pieces. They leave me feeling impressed, inspired, and utterly incapable.

One such diy mastermind is Ivy Frozen, who refashions vintage pieces and sews her own clothes. One of my favorite of her feats has to be the sassy swing dress she made out of a longer skirt: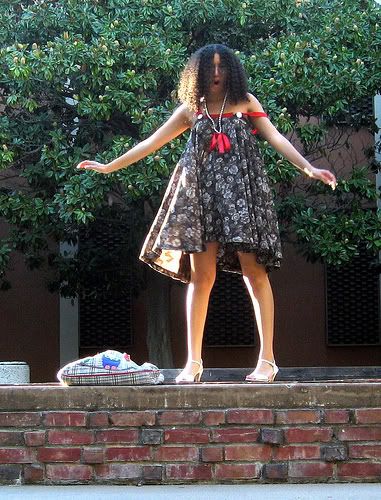 She made it sound so easy - nothing but ribbons, buttons and thread. Pssh, I can barely turn meat, cheese and bread into a sandwich.

Strawberry Kitten is another crafty lady - she makes her own clothes and alters old ones as well. I have no idea what this blouse looked like before she put it under the knife, but the finished product is bloody perfect on her:




I am pea-green with envy. I love the idea of diy-ing my nights away, but I am lacking in the knowledge department. I have a sewing machine that I adore, but I am easily discouraged by more complicated projects. I basically taught myself how to sew and am pretty confident in my rookie skills - I can read and follow a (simple) pattern, I can hem, sew buttons and repair torn garments. Still, I can't help but wish that I had a stronger arsenal of tricks - these girls are like fairy godmothers - they take a few rags and turn them into beautiful things without the messiness of traveling inside a glorified pumpkin.

I have a few diy ideas up my sleeve, but I always seem to need a burst of creative energy to conquer them - something hard to muster with a rigorous class and work schedule. Plus, I inevitably mess up several of the things I try. I have a sewing guide book that contains plenty of step-by-step tutorials and tips, but I sense it will be hard to improve without direction or guidance. Or, at the very least, practice - which will certainly lead to piles of unusable jagged, lumpy garments who perished at the hands of my mediocre sewing skills.

Do you sew? How did you learn? By practice or instruction? Do you have a bone you're willing to throw? How about a tip, or an inspirational quote? Any sources that could be of help?