On December 31, 1999, I rang in the new millennium at a babysitting job after ushering the children to bed several hours earlier (after midnight in, say, Greenland?) I was 13, and my fashion consciousness was not acutely developed. I favoured peace sign shirts, overalls and Doc Martens. Still, I regarded several figments of pop culture as fashion authorities and assumed I'd be clad like them come high school. Here were a few on my list.

Clarissa Darling, the heroine of Nickelodeon's TV series Clarissa Explains it All, had an enchanting fantasy life - her male best friend was allowed to enter her home by climbing a ladder to her bedroom window (at which point a suitably dorky sound effect would play,) and she could create intricate computer programs which animated the behaviors of her friends and families. I accepted these notions without question - of course my parents would be fine with males entering my bedroom window by ladder. Of course high schoolers can crack off sophisticated computer animation modules without formal training. High school is going to rock! And of course, every time Clarissa wrote words on the screen using her fingertips or spoke to the camera, she was decked out in something colorful and clashy.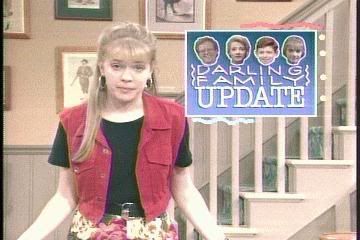 Claudia Kishi of The Baby-sitters Club is actually depicted in a number of ways - book cover illustrations, the TV series and the feature film. Claudia, albeit a brilliant artist, was always just about to fail math or science and get kicked out of the baby-sitters club. Actually, in the film, she is forced to go to summer school and the BSC wrote her a song to help her remember the parts of the human body. Claudia scored a B on the test because she remembered the lyric "the brain, the brain, the center of the chain," which really makes one wonder what impression she was under before. Still, Claudia used her creative faculties when creating fashion magic. For a more detailed analysis, the delightful What Claudia Wore is a blog that chronicles the many faces of Claudia.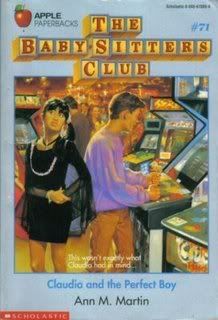 The ladies of the film Cruel Intentions rank high on the list of teenage characters who were never remotely believeable as teenagers. Granted, they weren't too believable as human beings either. The film is a delicious guilty pleasure though, and the rich schemers have quite covetable wardrobes.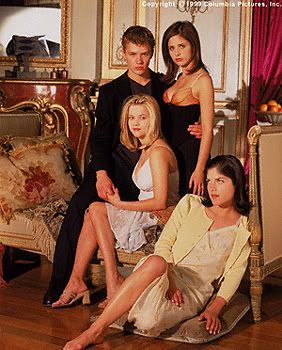 Taking the cake is Ms. Cher Horowitz of Clueless. Who didn't dream of a mechanized closet that allowed a girl to choose her outfits via computer? I can't help but be mildly disappointed that the most popular girls at my high school wore Northface jackets and body conscious polo shirts instead of one of these succulent numbers.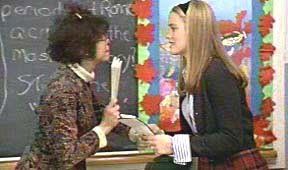 Who were your fictional teenage fashion icons of the 1990s?