It is so typically Chicago to give us another blizzard two days before Easter. I wanted to do something fun indoors, so I hopped on down to the Art Institute to see their special exhibit on Edward Hopper.




I adore Hopper's work, and Nighthawks has always been one of my favorite paintings. I love the way he portrays people and isolation in the city. The small plaques next to each work were also informative. I learned, for instance, that Hopper is heralded for paying such detailed attention to the clothing of his subjects, particularly his women. I love the women he paints...they are sophisticated, stylish, but complex. I also love their make-up and hats.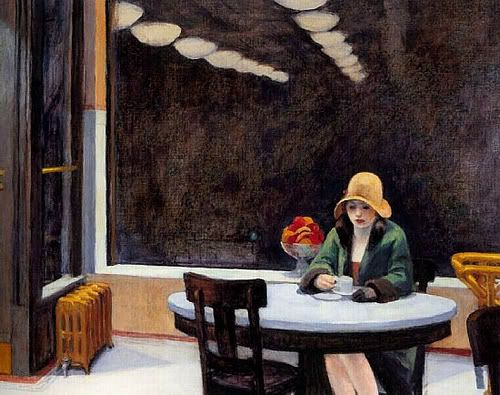 As for today, snow and ice are all over the place but nothing is actually falling from the sky. I went out to lunch earlier, and I think I'll kill the afternoon with some grocery shopping and reading.




Beret: shop in San Francisco
Sweater: thrifted
Corduroy jumper: thrifted
Cat Brooch: thrifted
Tights: Target
Blue socks: H&M
Pewter pumps: Target

...and, a contemplative hipster-esque shot in which I am literally gazing into your soul.