I love browsing the products of indie crafters, because their creations are so unique and inspirational. These designers can easily generate great diy ideas, or just dazzle me with their talent. These pieces are accessories-turned-canvases. Wouldn't you love to push the fashion-is-art envelope into literal territory with these hand painted gems?

This beautiful vintage 1920s clutch is being sold at Candy Says. It seems ethnically inspired, as if it was purchased abroad before the days of air travel and mass international trade.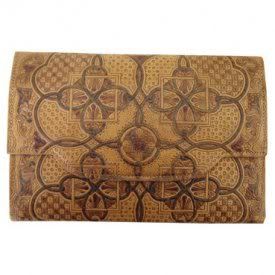 I found this charming scarf whilst trolling Etsy, in a shop called crystal j. There are so many printed silk scarfs in the world, and they are so easy to find in thrift stores that seeing a quirkier take is rather refreshing.




Hot Pink Pistol is a fantastic painter who sells her wares on her own site and The Naughty Secretary Club. I love the Warhol-esque pop art quality of these items:

This bag is so reminiscent of Roy Lichtenstein's blown-up comic strip art, right down to the dots: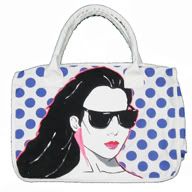 This one is too chic. I love the smoking kitten on a 'sex kitten' (vampy, not trashy!) wiggle dress. And the kitten is blowing smoke hearts! It is so cute when baby animals smoke.




...and this one is brilliant. I have not a single item in my closet with David Bowie's face on it. There is really no excuse for this.




Let's dance.