Being a student, sometimes I do exactly what is expected of me and waste valuable time on facebook. I like going through different groups and reading the descriptions. This description of a group called "Are You a Model? No Wait, You're an Idiot Who Got Dressed Up To Go To Class" caught my eye:

I wasn't aware that lectures were the best place to get dates. I could have sworn that it was a big room full of 500 college students so tired and/or hungover that they can't stay awake, let alone notice how you perfectly gelled your hair and got the collar popped at just the right angle, or how shiny your new heels are and how they perfectly match your stupid $100 wool poncho made from real llama hair. If getting ready for class involves more than zipping up the jeans you slept in, putting on the stained sweatshirt that was on the floor, and putting on a hat to cover your greasy and unkempt hair, please move back to Abercrombie Land with all the beautiful people. Let us uglies wallow in our filth without interruption.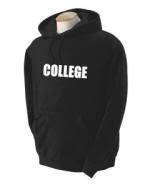 Ouch. I am apt to show up for class in something largely similar to what I'd wear to do most other things - in my case, a skirt or dress. I don't wear heels every day to class, simply because my book bag can be heavy. Still, my outfits at the university are pretty darn similar to my ordinary life outfits. I am not trying to impress people or flaunt myself in any way, I just don't see a reason to dress in something I ordinarily wouldn't to go to class. In my case, dressing down in a hoodie and sweatpants would be completely out of character and I'd feel uncomfortable. As a student and a fashion freak, I can't help but see most life situations as opportunities to dress up. I also think there is something to be said for the fact that school is, for all intents and purposes, my job right now. I take my classes very seriously (I do not, like the writer above, attend class hungover or barely awake) and I somehow feel that I would have trouble focusing and working hard in clothes that remind me of bedtime.

I know that the vast majority of college students attend class in hoodies or t-shirts. I don't mind, and I would never talk badly about or judge someone for wearing something casual to class. Judging from the positivity of the blogosphere, I doubt many girls who love style and clothes would bash others for not sharing their passion. Why, then, is there negativity the other way around? I can't say that anyone in my class has ever been rude about my outfits, but I have definitely gotten comments like, "you always make me feel underdressed" or, "do you go to work after this class?"

For those of you who are students, how do you dress for class? Have you noticed a particular attitude regarding your clothes among other students? What do you think in general about clothing choices at school?