About a year and a half ago, every fashionista I know obediently purchased a babydoll tunic top. The item became a summer staple. We wore them with leggings, capris and shorts. I find them tough to wear with much else. Many tunic style tops are billowy, and depending on the material they can be tough to layer or tuck in. They are a challenge to mix into new ensembles unless the shapes are just right. This problem is exacerbated by the winter - no more pedal pushers!

I was inspired today by this gal from Street Fashion in Cracow: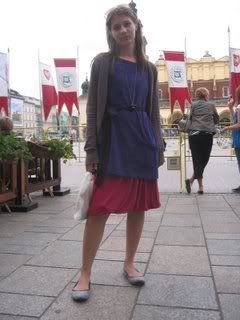 I like the way her skirt is peeking out just a bit. The look reminds me of a dropwaisted dress that someone like Erin Fetherston would make. Today, I hiked my skirt high up on my waist and let my tunic top fall over it.




Beret: flea market in Paris
Shades: Target
Necklace: gift
Eggplant turtleneck: H&M
Babydoll tunic: Forever 21
Pleated skirt: thrifted
Black tights: Urban Outfitters, thrifted in package
Blue knee socks: Urban Outfitters
Grannyish loafers: thrifted

...how do you work your tunic tops into winter outfits?