Usually I shy away from printed pumps, because however stunning they look in photos or on a shoe display rack I can't help but hesitate about how to wear them. Previously they have struck me as limiting because I had the idea that they must be worn only with blocked colors or complete monochrome. With all of the delightful print mixing I've been seeing lately, though, I crave a pair of heels with a flamboyant print. Any of these would do beautifully:




These Irregular Choice pumps would be stunning with nearly everything thanks to their black and white metallic palette. I love the exaggerated bow, and the print reminds me of an artist's sketch. The inner lining is also so cool that it is a shame no one will ever see it.




These Naughty Monkey shoes, via Zappos, are the perfect compliment to a swingy dress or nature inspired look. The brown wooden heel only furthers the comparison to plantlife.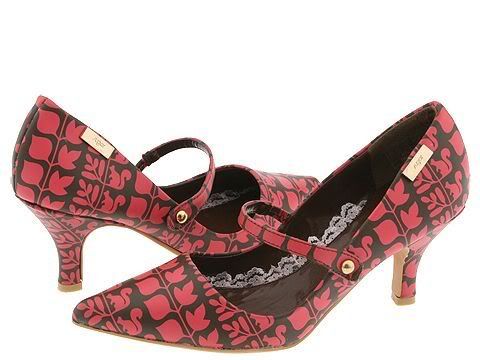 These are by Sugar, also through Zappos. I, for one, am thrilled that leaves and squirrels are able to band together to be a part of one achingly adorable pink shoe.




Holey moley, do I adore these lovelies from Delia*s. They are mind-bogglingly darling. I love the quirky, chunky heel, the large red button, and the vintage-looking floral print that reminds me of a handbag at an estate sale.

Bear in mind, dears, that printed pumps must be worn with caution. They lend themselves to distraction because you may not want to do anything but stare at your feet all day.