I am a huge advocate of scarves, and I have a lot of them. The coolest gift I ever received was a bag of old accessories from my Grandma, many of which were my great Aunt's who had an exhorbitant amount of money and what seems to have been a clinical shopping addiction, which bode very well for me. The bag contained gloves, belts and scarves and I love them all to tiny little pieces. As far as scarves go, though, I am rather prone to wearing them either like this:




...or like this:




Option one is achieved by rolling a square scarf so that it is about 2 inches wide, then tying it around the neck. Option two requires two triangle folds. Option two can be tricky, because sometimes it ends up looking like a bib. The last time I wore a scarf like that my boyfriend actually pulled my scarf over my mouth and told me that I was now I Zapatista rebel, but I think that may say more about him than the scarf.

Anyhow. I'd love to change it up, so I am inspired by these wardrobe_remix ladies who are reinventing the wheel with pizazz.




I adore how softspoken and the snail and the cyclops have tied their scarves as bows. It adds a playful, girly element and looks downright elegant in a suitably cheeky way.

I also dig where biboniaa is taking things: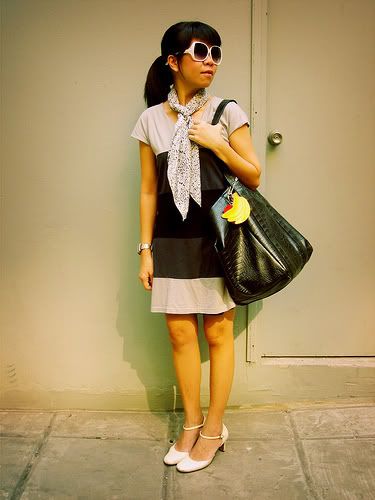 It is tied almost the way I usually tie mine, but the loose ends are in the middle rather than on the side. It is also flowier and more laid back. Dare I call it girl-scout-cowgirl chic?