The Chanel couture show contained several tweaks on their basic formula. I liked the ice princess quality and humming of the skirts. I was struck most, however, by the buttons. Granted, many of them are probably brooches placed where one would expect a button. But they are such pretty details that I think they stole the show.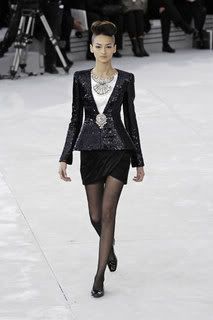 The blurring of the lines between button and brooch makes me wonder what other physical realities one could challenge. Spooky!

Actually, methinks I smell a DIY. It would be easy as pie. I am always seeing things at thrift stores that I don't like except for some terrific buttons, and it would be pretty painless to do a transplant of sorts. Alterna-buttons could be found anywhere. Single earrings? Beads? Champagne glasses? Garden statues?